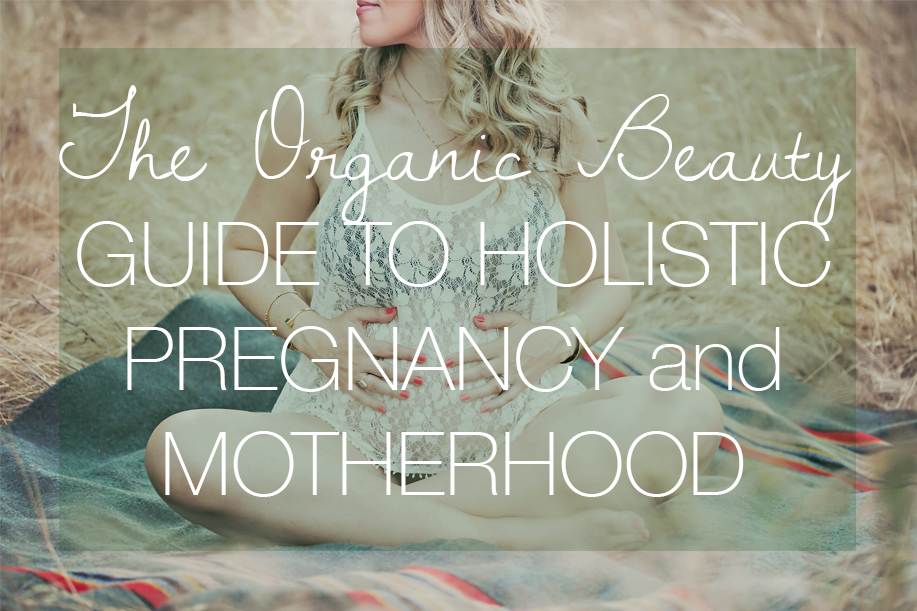 Being a few months out of pregnancy and well into the joys and tribulations of new motherhood, I am super excited to offer you this guide to all the products and tools that I used to have the radiant holistic, and natural pregnancy I had always hoped for.  A beautiful, healthy pregnancy doesn't just happen, just like healthy, happy kids don't just happen.  These are all the result of careful planning, healthy choices, and mindfulness. But sorting through all the information out there can be a nightmare, so as always, I'm here to help!
I'll be adding to this guide as we go — a guide to the postpartum period is coming soon, as well as everything you need for your little one!  So check back often and let me know what you'd like to see more of!
The Organic Beauty Guide to Natural Pregnancy and Motherhood
Holistic Pregnancy Guides & Resources
–> Holistic 1st Trimester Must-Have's
–> Holistic 2nd Trimester Must-Have's
–> Holistic 3rd Trimester Must-Have's
Natural Birth Guides & Resources
–> What to Pack for Your Natural Birth
Holistic Postpartum Guides & Resources
–> Holistic New Baby Essentials
–> How to Lose The Baby Weight, But Not Your Mind
–> Recipe: Miraculous Lactation Smoothie
–> 6 Ways To Boost Milk Supply
–> Recipe: Super Yummy Lactation Balls
–> Soothing Silver for Sore Nipples
–> Recipe: The BEST Lactation Cookies
Holistic and Natural Baby Guides & Resources
Natural Products:
–> Maty's Safe & Effective Products for Baby's Skin
–> 5 Ways to Use Lavender Essential Oil for a Happy Baby
–> Best Baby-Safe Cleaning and Household Products (and what to avoid)
–> Beautycounter: Affordable Luxe Baby Care
Healthy Living:
–> A Sustainable Organic Nursery
–> Adorable Non-Toxic Play Mats
Feeding Baby:
–> How This Nutritionist Feeds Her Baby
–> 5 Toddler Bad Eating Habits to Break NOW
Natural Remedies:
–> How to Naturally Treat and Prevent Diaper Rash
–> Best Natural Teething Remedies for Babies
Happy, Healthy Motherhood
–> 5 Secrets to a Happier 1st Year of Motherhood
–> Mini-Meditations: Mom's Secret To Getting Through the Toddler Years
---
Need more support?
Whether you're just beginning your journey towards becoming a mom, are already pregnant, or have recently welcomed your bundle of joy, let's work together to ensure you have the healthiest, happiest experience possible.  Depending on where you're at in your journey, we'll focus on:
Holistic fertility and hormonal balance
Preparing your body, home, and life for a baby
A healthy, radiant pregnancy
Preparing for the birth you want
Post-partum healing
Getting your body back after baby
Eating for energy, nourishment, and boosting milk supply
Making time for self-care
Restoring balance in your life